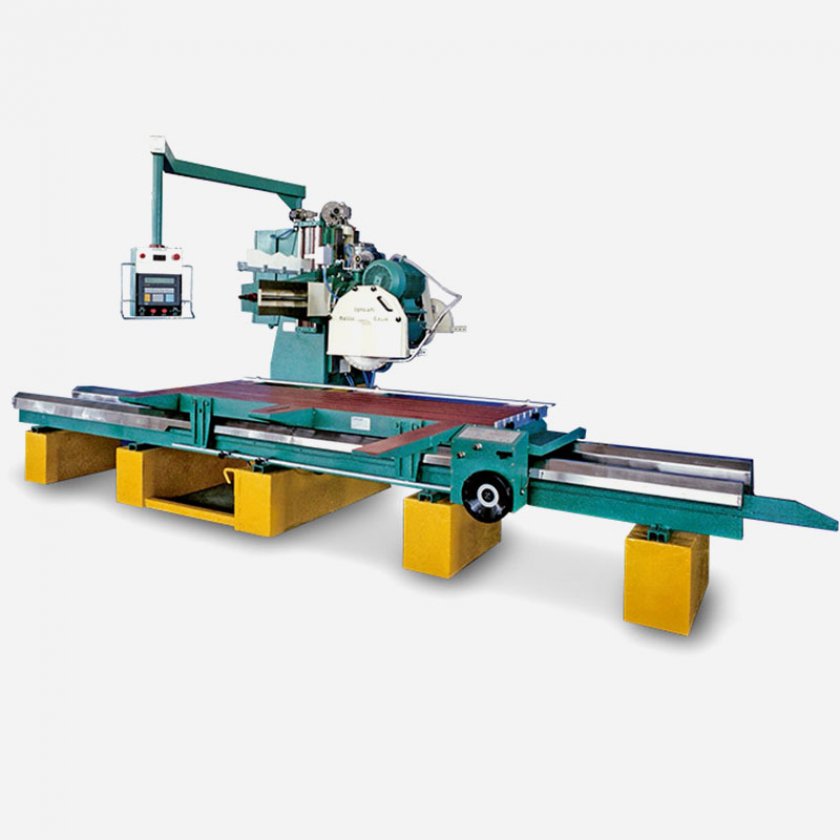 Apuania Milling Machine
The sturdy cast iron column, equipped with wide guides, bears the slide - spindle assembly. A unique widely - sized structured, it gives de assembly great stability and prevents vibrations.

The packaged spindle - motor assembly - 360° degrees turnable offers flexibility of use and prevents vibrations, thus creating optimal working conditions for the diamond tool.
The table is an en-bloc fully - ribbed cast iron casting. A very thick structure, the working surface can be ground repeatedly with the time going.
The oil - bath lubricated guiding system ensures longlife of guides and sliding wheels. In manual models, only a little effort is required by the operator for traverse motion. All Milling & Shaping Machines are fitted with a ratiomotor for vertical displacement as well as with power and control equipment. Steel guides are oil bath lubricated. The G-GG models are supplied with horizontal radiomotor. For other models, the radiomotor is optional. All models can be supplied with 2-disc axes on customer request. Realized Models.


REALIZED MODELS
P Small
MP Medium Small
M Medium
MILLING-SHAPING MACHINE APUANIA TONGIANI

General Features
The milling and shaping machine Apuania in the models G and GG are availables also in computerized versions automatic for the esecution of shaped profiles.